After offering services in the City of Washington, Washington County, PA, since 1991, TRPIL bought our existing building in 2000.
Due to the ever-increasing need of the community for our various Programs and Services, we exceeded our capacity to do so within a decade.
TRPIL needs to raise funds to help perform the environmental remediation, renovation, and new construction of the former YWCA building to make it into a fully accessible, modern and environmentally "green" office for our members and the wider community.
Thanks NiSource & Columbia Gas of Pennsylvania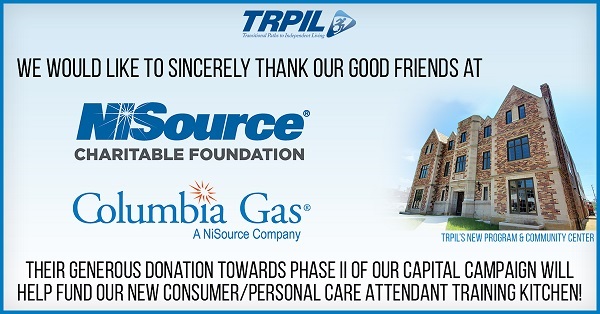 We here at TRPIL would like to offer a sincere THANK YOU to our good friends at 

NiSource

 & 

Columbia Gas of Pennsylvania

 for their generous donation to our Capital Campaign! This donation will go directly towards the installation of a consumer/personal care attendant training kitchen in our new program & community center at 42 W Maiden St in Washington!
Here are some photos of our new Washington, PA office building being renovated!
"It is important for you (Kathleen and staff) and the community to know how much I appreciate and admire your efforts."
— Tom Ridge, former PA Governor, Chairman of the National Organization on Disability, and good friend of TRPIL
See our video on TRPIL, the YWCA building, and the fundraising effort here:
There are many naming opportunities available for the YWCA Building. Please consider attaching your name to this historic building! For more information, please contact Joann Naser at 724-223-5115 or Email Joann.
Parlor—$80,000
Wellness Center—$120,000
Training Center—$120,000
Conservatory—$405,000
Auditorium and Stage —$915,200
Conference Area—$90,000
General Office Space—$2,400,000
Life Safety Area—$421,200
Main Foyer—$120,000
Main Reception Area—$79,200
Exterior Renovations—$200,000
Pool Area—$490,560
Bathrooms—$75,000
Lobby/Reception Level 3—$69,660
CEO Office and Smart
Office Technology—$80,000
Volunteer Room—$96,800
Lobby/Reception Level 4—$69,660
Landscaping/Parking Areas—$536,000
Capital Campaign Webpages
Capital Campaign Events
Renovation News

Current Status: Internal demolition done; bidding interior renovation.

"Why the Y Building is Important to Me" Stories